One of our team members has recently disappeared out to the Spanish island of Ibiza. But not for the reasons you might think.
One of the things we love about being part of the 24-7 Prayer movement is that we truly are family, one tribe. We may all carry different expressions of prayer, mission and justice in our communities but we carry the same vision – Jesus. Many different languages are spoken and cultures represented yet we share the same values of being true to Christ, kind to others and taking the gospel into the world around us. We care for one another, learn from one and inspire one another. And sometimes, we get the opportunity to serve one another.
24-7 Ibiza has been around a while and our team member Kathryn Ritchie has done summer mission seasons with them several times. So when she came to us recently with a new stirring in her heart to go and serve the 24-7 Ibiza community for a wee while, we were delighted. By sending her it feels like we all get to serve our friends there just a little.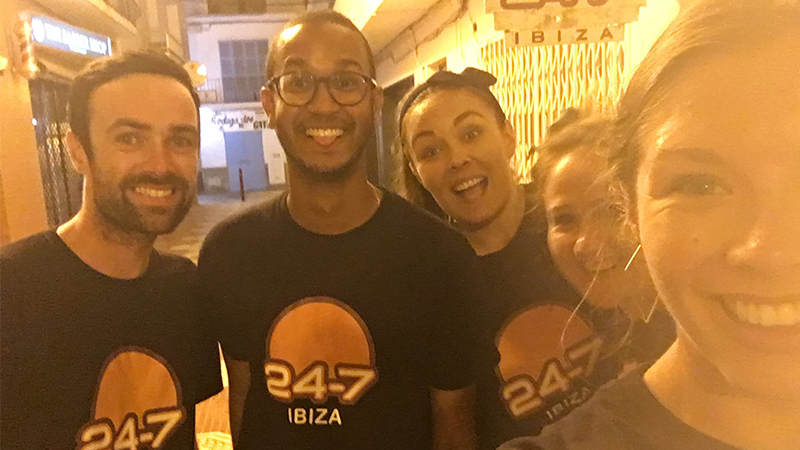 Here is Kathryn in her own words: "Currently I am 'on lend' to another missional community in the wider 24-7 Prayer global family, 24-7 Ibiza.
I am here for one month as the summer season comes to a close. I've served on team many times before, but this year felt different as to why I decided to come back. In May, I sensed God prompting me to return specifically to serve the permanent community here on the island. The core community on the island has changed a lot through the past two years of Covid-19 and the way that the team lives out the values of prayer, mission, and justice has evolved too. It's been an incredibly exciting start to my month here as I've gotten stuck into a new rhythm, new aspects of the work, and sensing there is something new coming to 24-7 Ibiza soon. It has been a privilege to get to join with the community as we pray and seek out what God is up to."
Kathryn will be sharing more in depth what her time with 24-7 Ibiza has been like when she returns next month.